Legal and Ethical Duties to Vulnerable Individuals for Social Work Practitioners
Do I understand my duties to protect/warn/inform correctly?
What actions does the law specifically require or prohibit (must do, may do, can do, can't do) in regard to my duties to protect/warn/inform?
How do I balance these duties with the duty of confidentiality and other obligations?
How do I conduct myself professionally with my interactions with the court?
How can I enhance my clients/consumers' informed consent?
This three-hour Social Work and Kentucky Law workshop presents the legal duties for social workers towards vulnerable individuals.  This means the duties for reporting child abuse and adult/elder abuse and the duty to inform and assist with individuals in domestic violence situations.  The duty to warn for harm to self and others will also be covered as well as the limits of confidentiality and the protection of privacy and the exercise of privilege.   Court etiquette for social workers will be given and a template for informed consent. Documentation, record release, and retention will be reviewed along with involuntary commitment statutes.
This self-study course is presented for educational purposes and approved by the Kentucky Board of Social Work, Sponsor number KSWB 2020037.
Presenters: Brian J. Dufresne, Esq & Hank Cecil, LCSW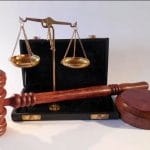 Social Work and Kentucky Law
Social Work and KY Law